Case Study
Connected Car Services Testing
Enterprise View of International Network Experience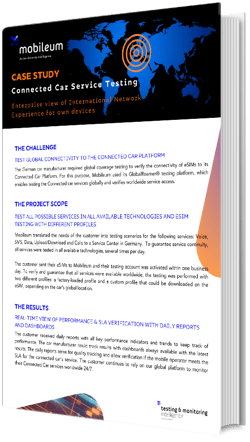 The German car manufacturer required global coverage testing to verify the connectivity of SIMs to its Connected Car Platform. For this purpose, Mobileum used its GlobalRoamer® testing platform, which enables testing the Connected car services globally and verifies worldwide service access.
Mobileum translated the needs of the customer into testing scenarios for the following services: Voice, SMS, Data, Upload/Download and Calls to a Service Center in Germany. To guarantee service continuity, all services were tested in all available technologies, several times per day.
Download this case study to explore the enterprise view of testing global connectivity to the connected car platform.