Case Study
eSIM & IoT Roaming Testing for Connected Cars
Validate Global Network Connectivity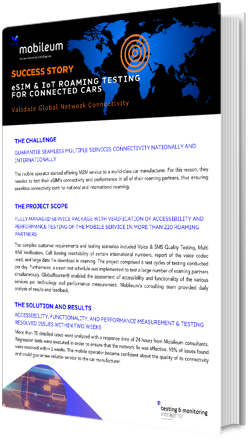 The mobile operator started offering M2M service to a world-class car manufacturer. For this reason, they needed to test their SIM's connectivity and performance in all of their roaming partners, thus ensuring seamless connectivity both for national and international roaming.
The complex customer requirements and testing scenarios included Voice & SMS Quality Testing, Multi RAB Verification, Call Barring reachability of certain international numbers, report of the voice codec used, and large data file download in roaming.
Download this case study to explore how Mobileum can help guarantee seamless multiple services connectivity nationally and internationally.