Datasheet
Automated Lab Testing
A powerful feature for testing, scheduling, automation and reporting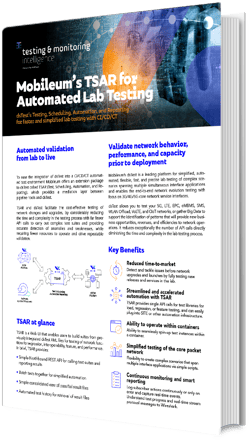 Mobileum's TSAR (Test, Scheduling, Automation, and Reporting) is your ticket to advanced testing efficiency. With TSAR, you can continuously log subscriber actions, selectively capture real-time events, and closely monitor test progress, all with precision. But the real value lies in its ability to detect and address network issues proactively, reducing the risk of problems during network upgrades and launches.
Moreover, TSAR streamlines and accelerates automation with the convenience of single API calls for various test libraries, making it easy to conduct load, regression, or feature testing. It seamlessly integrates into existing automation infrastructure like SITE. The capability to operate within containers simplifies the process of spinning up test instances, enhancing resource optimization.
TSAR also simplifies core packet network testing by allowing the creation of complex scenarios across multiple interface applications through straightforward scripts. The result? A considerable reduction in resource usage and enhanced efficiency, ultimately leading to automated validation like never before.
To unlock the full potential of these benefits, download our datasheet and revolutionize your testing processes with TSAR.