Research Report published by MobileSquared and Mobileum
The State of the Signaling Firewall Landscape
By 2025,
49% of all mobile operators will have a Signaling Firewall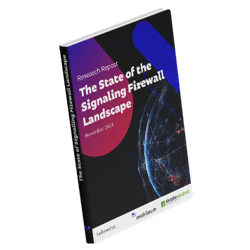 Signaling networks are coming under increasing pressure from rogue companies exploiting weaknesses to defraud subscribers. To date, only a small percentage of mobile operators
have deployed a truly-effective signaling firewall to detect and deflect attacks, leaving the majority of mobile networks prone to fraud, damage to their brand, and the ultimate threat
of losing loyal customers.
To understand how signaling firewalls are being deployed, what level of protection they are providing, and how mobile operators are looking to harden the security of their networks, Mobilesquared conducted research into the implementation of signaling firewalls on behalf of Mobileum in 1H2021. The research was based on an online survey of 40 participating mobile operators, predominantly Tier 1.
Download this report to have access to our key findings.